Pauline van Dongen was born in Amsterdam in 1986 and had a childhood filled with art and music attending an arts conservatory at the age 15. In 2004 she was accepted into ArtEZ, the academy of arts in Arnhem. It was there that she first developed an interest in the French method of pattern drafting called "moulage" (which literally translated means 'mold'). As she explored surfaces and textures, she began screen printing silk jersey with puff ink applying heat to the fabric. During this process, she discovered that the ink expanded and pulled the fabric into a resilient and flexible plissé. Draping the luscious material onto the body, voluminous shapes began to emerge. Her graduation collection, Sibylle, was inspired by body language and the stories she could tell with her textile creation. In 2008, she went on to the Masters Program at the Fashion Institute of Arnhem. During a shoe design course there, she discovered a love for product design and 3D printing. Innovations in 3D gave her the opportunity to translate the sculptural feel of her garments into a rigid polyamide that maintained the organic lines she so loved.  The outcome are these striking shoes lend a futuristic look and feel to her overall collection which includes clothes and jewelry.
In 2010, her Vertigo shoes won the Sacha Golden Heel Award.
Her graduation collection Morphogenesis was awarded 'most creative collection' by the Camera Nazionale della Moda Italiana at Mittelmoda, the Fashion Awards in Italy.
She's also been selected as one of ten finalists at the Belgian fashion award to be held on October 20th.
Tactility, texture and no-frills modernity are the essence of Pauline's work. As she continues to explore the use of new and unconventional materials, she says she's creating "a proposal for the future." At what women make, we quite agree.
MORE FROM PAULINE
MORPHOGENESIS

MORPHOGENESIS – RED

Asymmetrical Sculptural Dress 1

Asymmetrical Sculptural Dress 2

Silver Bracelet
PAULINE'S STORE-Y
THE INTERVIEW
wwm: Who wears a Pauline Van Dongen shoe or dress? (Who do you see being your customer?)
PVD: I design for a woman who lives in the present. Her vision is open-minded and she thinks about today, but she also has a vision and an eye for the future. She is naturally cool and radiates a relaxed elegance. My customer appreciates the tactility and no-frills modernity of my designs.
She is not concerned with the clothing shaping the body in a pre-determined mold. I prefer the idea that the body is what gives the clothes a certain volume, creating an organic and sculptural shape. I give the wearer a sense of this freedom in my clothes, which makes it a pleasure to wear.
wwm: Name three of your favorite items you own and how they speak to your aesthetic.
PVD: 1. A ring made from a shell, which I like because of it's natural sculptural aesthetic. 2. A prism, because I'm fascinated by light and the refraction of light. 3. A PET bottle made of glass, I like it's simplicity very much.
wwm: You talk about the future in your bio. How do you see the future of constructing clothes, let's say 10 years from now? What part in that will you play?
PVD: I think in the future the construction of clothes will become more personalized. For instance with my Morphogenesis shoe, it's not hard to imagine that we would make a 3D scan of someones foot and adjust the 3D file of the shoe, so it will have a perfect individual fit. Also there will be new technologies that provide new ways to make and finish a garment individually. For instance, seams won't always be sewn – they may be glued or fused together. We will create garments that 'grow'. You can find research on this subject at www.biocouture.co.uk. Textile design and technology will increasingly merge and I hope to play a part in this development.
wwm: Any characters from movies or books influence your work? If so, who?
PVD: For me it's mostly the atmosphere of a movie that triggers me. A certain mood can influence my work. Recently I saw a documentary about the artist Olafur Eliasson (Space Is Process, 2010) which was very inspiring. The way he talks about spatial research is very intriguing. I also really like the way, for example, fiction and reality get blurred in the movie 'The Fall' (2006). At the moment I'm looking forward to seeing 'I Am Love' with Tilda Swinton.
wwm: You say you feel you've been freed from all boundaries due to advances in technology, what's your favorite innovation in fashion and how does it work?
PVD: I really like innovation because it advances our concept of what fashion is or could be. At this point I'm very fascinated by 3D printing. Maybe in the future it will be possible to print out a whole dress. I'm also interested in interactive fashion. Clothing that incorporates movement or react to the environment. A designer who I recently visited in Montreal, Ying Gao, works with these concepts a lot and she does amazing things with it! My interest always begins with the material so I'm always looking for new textile technology. There is so much going on right now, from using recycled materials to growing fibers and fabrics.
1 Comment
---
*lead photo by Venia Bechrakis
With Greece making the headlines for its economic woes, I was inspired to go on the hunt for modern female talent from the birthplace of democracy and give it some positive attention.  Some of my picks have been around awhile, some are fresh on the scene. They come from sculpture, photography, fashion, jewelry, and of course there's that one certain Greek media mogul who's in a class of her own. Also check out TEDxAthens and the accomplishments of Katerina Aifantis who at 24 has already been called a rising star with the potential to be a world class scientist. Then on the lighter side is Greece is for Lovers worth checking out for their fun, cheeky design products.
Photographer, Venia Bechrakis, (from the lead photo of this post) is a native of Athens and received her MFA at NYU. "Whether in a grocery store, the airport, the subway or on a Manhattan street, the artist's portraits remind us of women's work and that ever-tenuous balance between one's private and public life." -Holly Block, Director Bronx Museum for the Arts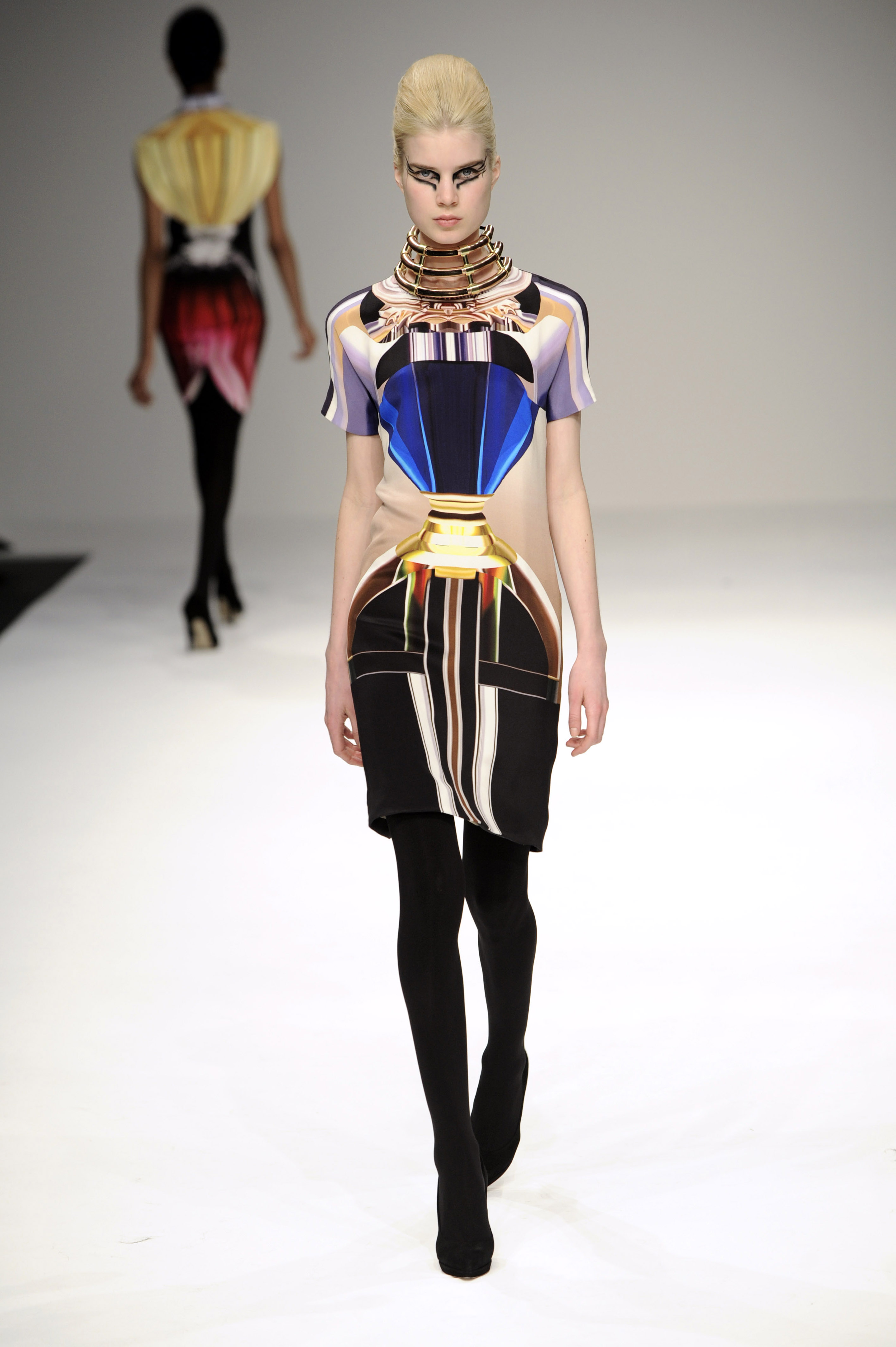 Mary Katrantzou , fashion designer from Athens "is among the second wave of breakout stars of the digital print revolution that has been sweeping London." – Style.com"
Alexandra Bletsas' prize-winning cityscape rings.
Aspa Gutmeni's post-it note interior design. She is the leader and sole female designer at a firm called 3ducci out of Athens.
And from an exhibit in Holland where eleven Greek jewelry designers showed their work there's Marina Zachou roses and thorns bracelet.
and Marina Gouromihou on the Greek jewelry design site MyPrecious.gr"
In a class of her own of course is Greek-American Arianna Huffington of the Huffington Post. Here she is at 24.
1 Comment
---
Sharing my messages of these, my collected and unique objects, is important for me. The rather unconventional technique of silicone casting is a snap-shot of my time and also the culture I am part of.
1 Comment
---
---
A skim through the portfolios of 2009 grads from RISD and Pratt, I came up with four quick stand-outs and two reasons why 'me likey' as Coroflot says.
Irina Kozlovskaya, RISD
A bike rack that protects. Living in the thief-heaven that is Barcelona, I'm always wrestling with the racks outside my gym to make my bike as hard to steal as possible so I can appreciate a solution like this. Covers one wheel so you only have to lock up the other. a) solves problems b) looks neat. This is her site.
Tiffany Burnette, Pratt
Makes cuffs with metro maps. She has a company called Design Hype Inc. and calls her self an entrepreneur as well as a designer.  Now we're talking. I'd love one that lights up or uses color for each subway line. I'd like mine to be for Barcelona.  Congrats to Tiffany.  Why I like it?  a.) solves a problem b.) does it with whimsy and what looks like comfort! Comfort is key. Too bad she started putting her URL very very large on the side. Seems a shame as it now looks more like schwag than design. I'd recommend she go back to the original design.
Lindsay Weisenthal, RISD
Continuing a movement playing with pixelization, as well as a reference to the digital mixed with the traditional in the form of a lovably tactile patchwork aesthetic. The modern and the traditional. The digitized and the hand touch. a.) builds on the conversation. b.) shape, use of color, and small size for urban living makes it fresh and easy to produce and distribute. This is her site.
Maggie Matela, Pratt
After wading through thumbnail after thumbnail, this plush and touch-worthy backpack shape reminded me of exquisitely draped clothing – or at least it's a few tweaks away.  I don't think it's easy to make a backpack look luxury. Maggie's accomplished that. I hope it goes into production and we can sell it here, even better yet in a variety of muted inky colors. a.) new look from an old theme. b.)great starting off point for a signature piece. This is her site.
Thanks to Coroflot for the great online portfolios.
-Chauncey Zalkin
2 Comments
---
I made a new friend from Mali here in Barcelona. Just around the corner from the church he has a store in bright yellow with:
handmade watering cans of recycled tins
plastic woven rugs in all sizes and colors
a cloth patchwork map of Africa sewn on a pillowcase
huge colorful straw baskets
wire mobiles
and best of all, these bracelets which are melted plastic shoes made into necklaces (made to layer) and these bracelets. In the store he has snapshots of women sitting on overturned buckets working over a flame.
Cost:

The owner is working on opening a boutique hotel in Mali which I'm sure will be just as uniquely stylish and joy-inducing as his store

Of course my interest is in female artisans — he has assembled a team of fellow craftspeople of the female variety who work on projects for him for his store. He imports in huge canisters and lives a happy life with his Catalan girlfriend and young son. He's come a long way through his years spent homeless in Paris after his papers ran out and his pride prevented him from crashing on friends couches for very long. He read, he worked on his craft, and was patient; making his way to dishwasher, then supplier to an African boutique (now closing) in my old Marais neighborhood, to a store of his own here in Barca.

Because of him, Mali is my first entry in What Women Make! Welcome!

-Chauncey Zalkin
2 Comments
---
---
Who knew a necklace made of Barbie breasts could be so beguiling?
This Barbie extracted and abstracted jewelry by Margaux Lange is beautiful and original.
0 Comments
---
---