Pauline van Dongen was born in Amsterdam in 1986 and had a childhood filled with art and music attending an arts conservatory at the age 15. In 2004 she was accepted into ArtEZ, the academy of arts in Arnhem. It was there that she first developed an interest in the French method of pattern drafting called "moulage" (which literally translated means 'mold'). As she explored surfaces and textures, she began screen printing silk jersey with puff ink applying heat to the fabric. During this process, she discovered that the ink expanded and pulled the fabric into a resilient and flexible plissé. Draping the luscious material onto the body, voluminous shapes began to emerge. Her graduation collection, Sibylle, was inspired by body language and the stories she could tell with her textile creation. In 2008, she went on to the Masters Program at the Fashion Institute of Arnhem. During a shoe design course there, she discovered a love for product design and 3D printing. Innovations in 3D gave her the opportunity to translate the sculptural feel of her garments into a rigid polyamide that maintained the organic lines she so loved.  The outcome are these striking shoes lend a futuristic look and feel to her overall collection which includes clothes and jewelry.
In 2010, her Vertigo shoes won the Sacha Golden Heel Award.
Her graduation collection Morphogenesis was awarded 'most creative collection' by the Camera Nazionale della Moda Italiana at Mittelmoda, the Fashion Awards in Italy.
She's also been selected as one of ten finalists at the Belgian fashion award to be held on October 20th.
Tactility, texture and no-frills modernity are the essence of Pauline's work. As she continues to explore the use of new and unconventional materials, she says she's creating "a proposal for the future." At what women make, we quite agree.
MORE FROM PAULINE
MORPHOGENESIS

MORPHOGENESIS – RED

Asymmetrical Sculptural Dress 1

Asymmetrical Sculptural Dress 2

Silver Bracelet
PAULINE'S STORE-Y
THE INTERVIEW
wwm: Who wears a Pauline Van Dongen shoe or dress? (Who do you see being your customer?)
PVD: I design for a woman who lives in the present. Her vision is open-minded and she thinks about today, but she also has a vision and an eye for the future. She is naturally cool and radiates a relaxed elegance. My customer appreciates the tactility and no-frills modernity of my designs.
She is not concerned with the clothing shaping the body in a pre-determined mold. I prefer the idea that the body is what gives the clothes a certain volume, creating an organic and sculptural shape. I give the wearer a sense of this freedom in my clothes, which makes it a pleasure to wear.
wwm: Name three of your favorite items you own and how they speak to your aesthetic.
PVD: 1. A ring made from a shell, which I like because of it's natural sculptural aesthetic. 2. A prism, because I'm fascinated by light and the refraction of light. 3. A PET bottle made of glass, I like it's simplicity very much.
wwm: You talk about the future in your bio. How do you see the future of constructing clothes, let's say 10 years from now? What part in that will you play?
PVD: I think in the future the construction of clothes will become more personalized. For instance with my Morphogenesis shoe, it's not hard to imagine that we would make a 3D scan of someones foot and adjust the 3D file of the shoe, so it will have a perfect individual fit. Also there will be new technologies that provide new ways to make and finish a garment individually. For instance, seams won't always be sewn – they may be glued or fused together. We will create garments that 'grow'. You can find research on this subject at www.biocouture.co.uk. Textile design and technology will increasingly merge and I hope to play a part in this development.
wwm: Any characters from movies or books influence your work? If so, who?
PVD: For me it's mostly the atmosphere of a movie that triggers me. A certain mood can influence my work. Recently I saw a documentary about the artist Olafur Eliasson (Space Is Process, 2010) which was very inspiring. The way he talks about spatial research is very intriguing. I also really like the way, for example, fiction and reality get blurred in the movie 'The Fall' (2006). At the moment I'm looking forward to seeing 'I Am Love' with Tilda Swinton.
wwm: You say you feel you've been freed from all boundaries due to advances in technology, what's your favorite innovation in fashion and how does it work?
PVD: I really like innovation because it advances our concept of what fashion is or could be. At this point I'm very fascinated by 3D printing. Maybe in the future it will be possible to print out a whole dress. I'm also interested in interactive fashion. Clothing that incorporates movement or react to the environment. A designer who I recently visited in Montreal, Ying Gao, works with these concepts a lot and she does amazing things with it! My interest always begins with the material so I'm always looking for new textile technology. There is so much going on right now, from using recycled materials to growing fibers and fabrics.
1 Comment
---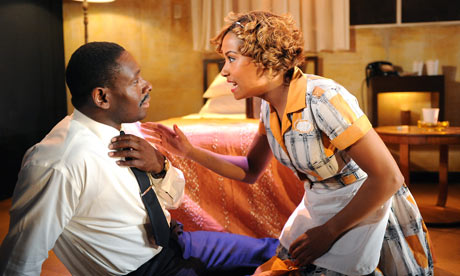 Meet 28 year old Katori Hall from Memphis. She won Best New Play at the Olivier awards. The Mountaintop is an imagined account of Martin Luther King
Pauline Van Dongen 3-D Printed Shoes. Featured on Fast Company. (later part of our What Women Make – Women in Design 1st edition show at the London Design Festival, autumn 2010)
Shanan Campanaro surface design reminiscent of Rorschach test
0 Comments
---
---