Françoise Huguier will direct the 3rd annual Photoquai exhibition showcasing non-European photographers' work alone the Seine.
Sept 13, 2011 – November 11, 2011
Paris, France
"400 works by 46 contemporary photographers from 29 countries: South Africa, Congo, Ethiopia, Nigeria, Tanzania, Togo, Morocco, Tunisia, Bahrain, Iraq, Belarus, Russia, China, South Korea, India, Japan, Taiwan, Cuba, Cambodia, Laos, Malaysia, Indonesia, Singapore, Thailand, Australia, New Zealand, Chile, Colombia, Brazil" will line the Seine.
"Photoquai 2011 is a voyage through the clamour of the world, stimulated by photographers' perceptions of the state of their societies and of cultures other than their own. For us, they act as watchmen, guards, preventing us from falling asleep."
Francoise is a world traveler, photographer, filmmaker and curator with great passion for Africa. Her work seems to spans genre, place, medium, all arresting images and themes offering rare access to cultural specificity around the world.
Though this exhibit is not about Huguier, the more you journey, the riches become apparent. Here are some of her photographs, the mind behind this year's Photoquai exhibit: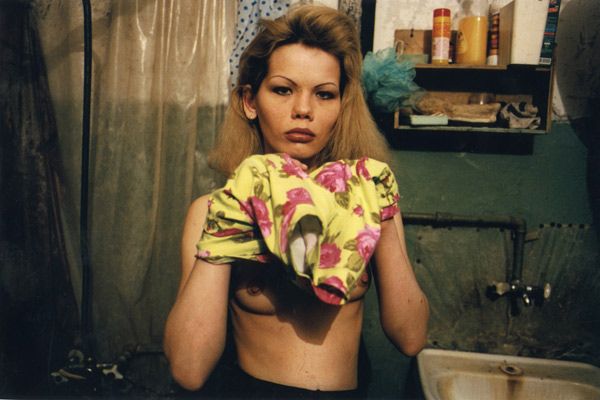 Above from her documentary Kommunalka about Russian communal living.
Les Trois Grâces – Women in Paris preparing for a show
Japanese Baths
From her collection, Singapore Don't Move about Singapore's middle class
and more here
0 Comments
---
Patrizia Moroso, creative director of the Italian design company, Moroso, created an homage to African design at Salone del Mobile 2009 and then again at ICFF, collaborating with a slew of star designers including Ayse Birsel and Patricia Urquiola.  The work is nothing short of phenomenal.
Patricia Urquiola chair via myoriginique.com
Ayse Birse of Birsel + Seck via birselplusseck.com whose work is a "hub for African architecture, design and eco-friendly development projects."
Me-Design magazine says: "2009 looks set to be a year for the girls at Moroso …  they'll also be exhibiting pieces from all-girl design studio Front."
See more images at Greece-based design website, Yatzer.com.
1 Comment
---
How I went to a Mali culture and design expo and ended up befriending and creating a blog for an inspiring and charitable design co-op from Mali two days later in my apartment. Hugs all around. Read More…
1 Comment
---
I made a new friend from Mali here in Barcelona. Just around the corner from the church he has a store in bright yellow with:
handmade watering cans of recycled tins
plastic woven rugs in all sizes and colors
a cloth patchwork map of Africa sewn on a pillowcase
huge colorful straw baskets
wire mobiles
and best of all, these bracelets which are melted plastic shoes made into necklaces (made to layer) and these bracelets. In the store he has snapshots of women sitting on overturned buckets working over a flame.
Cost:

The owner is working on opening a boutique hotel in Mali which I'm sure will be just as uniquely stylish and joy-inducing as his store

Of course my interest is in female artisans — he has assembled a team of fellow craftspeople of the female variety who work on projects for him for his store. He imports in huge canisters and lives a happy life with his Catalan girlfriend and young son. He's come a long way through his years spent homeless in Paris after his papers ran out and his pride prevented him from crashing on friends couches for very long. He read, he worked on his craft, and was patient; making his way to dishwasher, then supplier to an African boutique (now closing) in my old Marais neighborhood, to a store of his own here in Barca.

Because of him, Mali is my first entry in What Women Make! Welcome!

-Chauncey Zalkin
2 Comments
---
---
Phyllis Taylor founder of Sika Designs won 'most outstanding contribution to the fashion industry' at the Black Business Initiative awards in 2006 for her Ghana-inspired pieces.
"All garments are produced in Ghana by highly skilled tailors and seamstresses. The highest standards in garment production is an integral part of Sika's mission. We work very closely with local traders and manufacturers to produce quality garments for the international market. By generating regular income for those involved, we are able to give back to the Ghanaian community and raise the standard of garment production."
0 Comments
---
The Women Are Heroes project from Belgian 'artivist' JR and Médecins Sans Frontières (doctors without borders)
0 Comments
---
Before What Women Make, I had a Webby nominated site called girlonthestreet.com. There was no blog software back in 1999 when I started it and I hand coded the entire site in HTML myself every time I wanted to update it. I thought I'd resurrect that site after going to work in advertising from 2004-2006 but I realized I'd changed a lot since then and Girl on the street gave way to What Women Make. In the interim before I discovered that, I rebuilt Girl on the street in 2007 for $3,000, an all flash site which was a complete waste (but very pretty).  When it launched, I was asked to do a trend report for a jewelry site where I could give away a pair of earrings. I decided to look for the most creative entrepreneurial, high-quality ideas in design. It was hard to find people at first, I must admit but Makeda's bags were a blend of two cultures – Ethiopian textiles (supporting craftsmanship in her native country) and fine Italian leather. Not only were they beautiful, but it was a business close to her heart. Unfortunately, she had to stop the project and go back to work but I'm confident she'll find a way to have a creative business again one day. Here she is in her own words:
I was born in Addis Ababa, Ethiopia in the 70s to a mother who was a flight attendant for Ethiopian Airlines and a father who was a record producer and entrepreneur. I emigrated to the United States in the 80′s and lived in Washington, DC, where there's a thriving Ethiopian community, before moving to NYC in late 1998.
I worked in corporate media for a number of years, where I enjoyed my role and responsibility as web producer, writer, and television field producer. But I was eager and itching to find a new creative outlet, away from my Midtown office. So I started sketching and a lot of ideas emerged for a handbag line. Coincidentally, my mother has a wonderful sense of style and her closet happened to be full of vintage bags from the 70′s and 80′s.
I went to Ethiopia a year ago to visit my father and I was blown away by the textiles that I saw in the market and knew that I wanted to someday incorporate these textiles into a handbag.
In the fall of 2007, I finalized the four samples that I wanted to debut and began the process of launching Makeda Collection NYC in Brooklyn – a unique line combining colorful, patterned textiles from Ethiopia with leather. My inspiration was iconic, beautiful Africa. The creative process was unlike anything I had experienced in the corporate world and knew that I wanted to pursue it as a business venture. Interestingly, during my research into the leather industry, I discovered the environmental impacts of the leather tanning process, so I decided that my line would only use vegetable tanned leather and organic cotton. As a treehugger and a longtime pescetarian, it's important for me to be environmentally-responsible. So I have made a commitment to use a green supply chain and services to reduce the company's carbon footprint.
Additionally, I want consumers to be aware of the social and environmental challenges facing Africa. One of these challenges is access to clean water. In Ethiopia, 76 percent of the population doesn't have access to clean water. In order to support the numerous charities that operate in Africa, I am planning to launch an e-commerce store where a percentage of the bag's proceeds will go to various charities like Charity: Water and The Ethiopian Children's Fund. I believe that consumers can have a direct role in helping to improve the lives of many with their purchasing power.
I debuted my Fall 2008 collection in February at Platform 2 New York, a ready-to-wear and accessories trade show. At this time, the bags are not sold in stores yet. My goal is to start manufacturing a limited quantity in Ethiopia. I'm fortunate to make it this far, especially with the support of family and friends. And I welcome the challenges in the future.
3 Comments
---
---