The new Donna Wilson "Bertha" chair which debuted at Maison Objet last week from SCP. You can see a lot of Donna Wilson's work at Future Perfect in the Noho store (NYC).
The maker of the drink-klip, a metal clip that attaches to a surface to hold a drink which I first discovered when I met her at LDF 09, debuted a new series of wallpaper, a commanding (if not entirely comfortable looking ) chair and tableware made from Hanji (traditional Korean handmade paper) at Maison Objet this past week as well. Her name is Been Kim and she was selected as a Next Generation Design Leader of the year by the Korea Industrial Design Promotion in 2006 and in 2009. The collection is called Meeet.
And according to Maison Objet, one of the biggest best design shows on the calendar, and definitively Parisian for better or worse, this is the season of the Sweet Freak. Out with the serious and stressed vibe of the past, in with the nutso crazy. (When did the nutso crazy ever leave France?)
In other news, Moss, that old institution of design retail in New York, is closing. It may be the end of an era in design in New York but hopefully it's a chance to usher in something new – a city where design environments with a sense of whimsy and warmth can thrive. Moss was a bit too musn't-touch-it for the immersive hybrid retail of the future.
& let me leave you with Clouds rug by Elise Fouin of Chevelier Edition
Links:
Chevalier Edition (Paris)
Designers Block (London)
Future Perfect (New York)
SCP (London)
Beeen (Korea)
0 Comments
---
Matières à réflexion in Paris is a wonderful example of the Paris atelier in the modern context, a place that combines process, discovery, craftsmanship and human interaction in a single experience. What Women Make speaks with designer Laetitia Azpiroz and partner Cyrille Raillet about their work and their philosophy.

A Show Love production. Show Love is a brand new social content service for lovable companies. Learn what we mean by lovable companies and our approach to content in our press release post and see more of our work at www.showloveworld.com
Don't forget to visit www.matieresareflexion.com to see other bags and accessories and view their most recent collection.
0 Comments
---
Chiara Parisi has been chosen to launch the first cultural program for the Monnaie de Paris with the objective of turning this gorgeous block long building along the Seine into a center "for dialogue between contemporary creation and the artistic professions." The program and new exhibition space will launch in 2013.
Its important that Paris' cultural institutions continue to grow and not shrink. Paris often feels stuck so this movement feels very encouraging.
There will also be a 3 star restaurant by Guy Savoy, a concept store, a garden, and the Métalcafé. Hopefully they'll do something Merci Merci and Collette are not doing. There's an opportunity now for a whole new approach to a concept store and maybe something that ties back to the concept of monnaie and revolutions afoot in the world of ideas about currency, maybe the fusion of cultural currency with new ideas for a monetary currency that gets us out of this mess. Let's see what they do..
0 Comments
---
Françoise Huguier will direct the 3rd annual Photoquai exhibition showcasing non-European photographers' work alone the Seine.
Sept 13, 2011 – November 11, 2011
Paris, France
"400 works by 46 contemporary photographers from 29 countries: South Africa, Congo, Ethiopia, Nigeria, Tanzania, Togo, Morocco, Tunisia, Bahrain, Iraq, Belarus, Russia, China, South Korea, India, Japan, Taiwan, Cuba, Cambodia, Laos, Malaysia, Indonesia, Singapore, Thailand, Australia, New Zealand, Chile, Colombia, Brazil" will line the Seine.
"Photoquai 2011 is a voyage through the clamour of the world, stimulated by photographers' perceptions of the state of their societies and of cultures other than their own. For us, they act as watchmen, guards, preventing us from falling asleep."
Francoise is a world traveler, photographer, filmmaker and curator with great passion for Africa. Her work seems to spans genre, place, medium, all arresting images and themes offering rare access to cultural specificity around the world.
Though this exhibit is not about Huguier, the more you journey, the riches become apparent. Here are some of her photographs, the mind behind this year's Photoquai exhibit: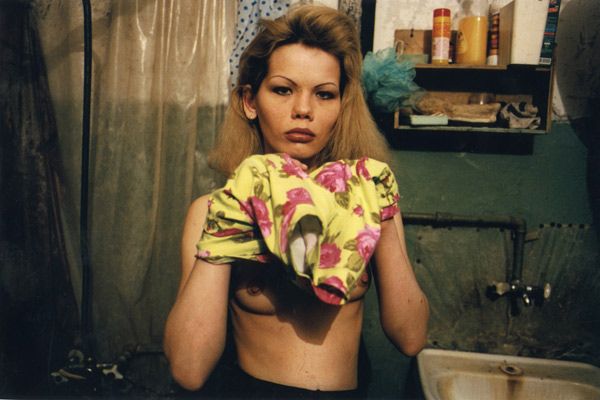 Above from her documentary Kommunalka about Russian communal living.
Les Trois Grâces – Women in Paris preparing for a show
Japanese Baths
From her collection, Singapore Don't Move about Singapore's middle class
and more here
0 Comments
---
When Zaha Hadid's Mobile Art Pavilion finally parked after it's world tour at the Institut du Monde Arabe in Paris, I wasn't going to miss seeing the thing. After leaving the pavilion, my husband asked, is it legitimate to have an exhibit of an architecture firm put on by said architecture firm? (Is it?) Without being organized by a third party, doesn't it lack the curatorial perspective that makes it a cultural / art exhibit? It's really just 'outdoor' (outdoor advertising) at that point.
Once inside, the feeling was like embarking on trip to Tomorrowland at Disneyworld, a bit chintzy, and no rollercoasters waiting just a monorail ride away. Intellectually, I was engaged by the explanation of new paradigms for building highrises that change the way forms relate to one another and the urban environment but they were touted as organic. I get it; the sinewy undulating shapes are amoebic, imitative of cellular life – but they definitely do not feel earthy but instead alienating, sinister, even menacing. Not a future I want to cozy up to.
Below are pictures by my photographer husband of the outside structure, then a picture of Ms. Hadid by my photographer friend Michael Sharkey, and then two of my own. What do you think? Are you a fan of Hadid's vision?
See the rest at Peter Crosby Photography
And a few more by me..
0 Comments
---
Weltevree, Holland
Image credit: Weltevree community magazine
It may seem silly at first – a car tugging a salmon pink hot tub down a dirt road – but Weltevree draws you into their heavenly world of rustic (yet ingeniously engineered) bliss so completely that you find yourself looking at their inventions and mentally rearranging your lifestyle to integrate a dutch tub into it any way you can.
With your dutchtub purchased and towed to your favorite look-out point, it's time to light the fire, sit back and watch the sunset with a friend. The tub measuring 170 x 170 x 84cm is made of fiberglass, polyester, and stainless steel and weighs 75kg.
Another object of my affection from their collection is the 'Outdooroven'. They tout it as a fireplace, heat source and barbecue in one; but aren't all ovens basically that? The real value for me is in the appeal of ritual, a return to old values and a connection to the earth while experiencing design that is wholly modern in its execution.
A particularly rustic 'Outdooroven' at Salone del Mobile:

Parallel to this, they've come out with a magazine/marketing collateral that shares the experience and promotes community among their customers,wonderfully expressing the passion that they clearly put into their creations. For more information go to Weltevree or www.dutchtub.com but don't miss their ingenious 'social experience experiment' on World Wide Local where they use a Google map app to connect the Weltevree owner community from all over the world.
A 'Stonestove', another one of Weltevree's creations:

Nouvelle Vague, France
During a week of loud design proclamations, I admired the way the French tiptoed into Milan Design Week humbly presenting an absolutely dynamite exhibition at the French Cultural Center. One of my favorites was by duo A+A Cooren – a vase of borosilicate glass (pyrex glass) called 'Tourbillon', which means whirlpool.
Tourbillon by AA Cooren:
The glass warbles and flows, bends and spirals in a fashion identical to an actual whirlpool. A small cup sits at the bottom so you don't have to lift the whole vase each time you change the water.
Here's Aki Coreen, one half of the A+A Cooren duo, posing with their Tourbillon vase:
My other favorite was from the 'Perch' collection of French designer Pierre Favresse. The rocking chair and desk with lamp were feather light on the eye while being sublimely functional and graceful at the same time. I wanted to tuck each under an arm and carry them home.
'Desk' by Pierre Favresse:
'Rocking chair' by Pierre Favresse:
Manuela Crotti, Italy
Set up in a quiet room next to the tap tap tapping of the staff at Spazzio Rossana Orlandi was the work of Manuela Crotti, another of my favorites and a real departure from the functional and streamlined design seen everywhere else.
A Manuela Crotti table:
Manuela remains a mystery as I wait to hear more about her from Rossana's assistant, but she layers a tableau of candy, food, nostalgic nick nacks and every day items from an enchanted life behind layers of resin to make up a long dining table, round table, cupboard buffet and end table, among other pieces.
A Manuela Crotti cupboard buffet:
0 Comments
---
(edited and published on Brand Channel) – When branding industry experts and enthusiasts discuss luxury, they generally agree that products of French provenance enjoy a distinct advantage. Words like perfection, detail, heritage, and the French "touch" are peppered throughout conversation. In fact, to witness true luxury, all one has to do is look around France itself —the immaculately preserved masonry of the stone buildings, the glimmering gold-tipped iron gates, and the regal gilded statues polished to perfection.
With more than 30 million fashion-hungry and camera-toting visitors every year, Paris, the "City of Light," is the most popular tourist destination in the world and France with its vineyards, lavender fields, and regional cuisines, is the most visted country with 79 million per year but the center of all that glory is Paris.  From the gold hued river Seine with its glimmering reflection of the Eiffel tower to the notorious French locals and their surly relationship with t-shirt loving vacationers, the underlying psychology of the city is rooted in a heritage of beauty and meticulous attention to detail. Lionel Crochet, a luxury travel business owner located right off the famed Avenue Montaigne (www.ultimatelifestyle.fr) says "Paris is a big swimming pool of the best of what the world has to offer. Growing up in a French household, you develop a taste for quality.  You are raised with the best.  We might not have it in our genes to be super efficient or hyper creative in a trendy sense but in regards to a Chanel suit, 20 years later, you wouldn't move a stitch." A local Paris bar-goer describes his home city by explaining that the term luxury comes from the Latin root lux, the Latin word for light, and, in French, there is actually le luxe, the masculine, and la luxure, the feminine, which doesn't occur in English—a branding tragedy!
French luxury brands remain decidedly on the top of the luxury pyramid. French holding companies LVMH and PPR reign over the luxury marketplace and consumer perception when it comes to the finer things in life just like their forbearers -the 'createurs' that dressed kings, queens, aristocrats and the upper bourgeoisie.
However, the very idea of luxury brands and branding is undergoing unprecedented analysis due to issues such as the shifting tide of global economics, the increasing availability of so-called 'luxe' products, and of course 'green' fever. The latest buzz regarding luxury brands stems from two books in particular. The first is Dana Thomas' Deluxe, How Luxury Lost It's Luster, which provides a detailed overview of the history of Paris couture—for example, the more than 200 hours of work that go into the creation of a single gown and the moment in time when the visionaries behind the frocks came to hold sway over the aristocrats who wore their designs.
This was an important development in the history of luxury brands for two vital reasons (1) the creator was empowered to focus on quality  – asking can you sit, can you stand, what will you be doing in the dress, etc. –for these were dresses made to be worn repeatedly.  They were not disposable fashion and (2) creators came to dictate (in the strictest sense of the word) fashion and style as indispensable counsel to aristocrats seeking advice on trends, elegance, and taste.
The very idea of luxury came about a close relationship between the master creator and the client.  Thomas talks about the modern day massification of luxury brands and the consequential loss of "luster" now that the sense of exclusivity and the special je ne sais quoi of luxury items have been compromised by mass production and increasing financial means. The very rich must now (and do) look for even more heightened and exclusive luxury experiences—so take note luxury brands.
Another even more riveting book, The Cult of the Luxury Brand: Inside Asia's Love Affair With Luxury, charts the rise of luxury brands on the other side of the world. In the collectivist societies of Asia, which are enjoying sustained prosperity, luxury shoppers are more than mere consumers; they are fanatics. in Asia, a Louis Vuitton bag is more than a must-have luxury; it's even become an icon of Japanese culture. The Japanese account for 40 percent of all luxury purchases worldwide. China is growing exponentially, and both India and South Korea have a growing and voracious demographic of luxury brand-obsessed consumers. In the wake of this shift, the long courted US market is no longer seen as the premiere demographic in which to push luxury brands and lifestyles.
Poise, grace and careful attention to detail is apparent in the demeanor of the new generation.  Hotelier Antoine Chevalle, 34, of family-owned jetset hotel, The Byblos in Saint Tropez (where Mick and Jade Jagger had their wedding in 1967) takes pride in what his family has built and honors its tradition yet he doesn't take anything for granted.  In an office unlike our utilitarian and minimalist American boardrooms, oil paintings surround a long carved wooden table. This is where Mr. Chevalle's sits, hands politely folded in front of him, and explains, "luxury to me is made to order or 'sur mesure'.  It has to be created especially for an occasion and has nothing to do with mass market.  Luxury is a hand-crafted experience for specific people."
Take couture as the ultimate example.  Today couture is an oft misused word in the English language.  "Couture", loosely translated means dressmaking or needlework and "haute" means high so 'haute couture' implies hand-done made for measure garments fitted to the individual.  In reality, true couturiers are comprised of a short list approved by the Chambre Syndicale De La Couture via a decree issued yearly by a special commission of the Ministry of Industry. They must employ a minimum of 15 or 20 technical sewers along with a slew of other criteria and aesthetic judgments – yet the bastardization of the term is rampant.
In fact, with today's growing luxury brand-obsessed demographics spreading across the globe, there is a risk of a real devaluation in the value and perception of luxury brands as they become more available, accessible, and attached to the bling quotient.
When it comes to luxury brands then and now in fact, much is lost in translation. For example, when asked about luxury brand sales, one Parisian personal shopper to wealthy clientele, Noémie Khatchadourian (www.noemiek.com), says she has a hard time finding American clients with the declining strength of the US dollar. "All of my clients are Russian. I must educate them on the French touch though.  When they first come to me, all they want is bling."
The concept of "bling" is decidedly at odds with the French concept of luxury. In fact, Noémie, in a follow up to her own comment, asks about bling, "Is this an Italian word? I don't know the origin of this word." After being informed that rap and hip hop are responsible for the term bling, she — still bewildered and not understanding this is not a guess — comments, "I don't know… maybe it comes from England?"  A person at the next table hesitantly agrees, "Yes, Angleterre."  When, finally convinced that bling is indeed from the streets of America, illustrated by the gold-fronted teeth and knuckle rings of rap album covers, she gasps, fascinated, "Really?"
The French value the idea of longevity and the importance of heritage as it relates to the quality of products.  In a modern day marketplace where character is achieved in clothing through "distressed" jeans and shirts, many people tend to think of authenticity as something we manufacture—like theme parks. The French appreciate heritage because it contains the story of themselves—their identity. Who they are has been fermenting for years in the barrels of wines, and is etched deep in the stones of their 15th-19th century architecture.  "The acknowledgement that one is great because one is standing on the shoulders of past giants is essential if we are going to be serious about our work," says creative director Alexander Gallé (www.galle.com) who has worked on French luxury brands YSL, Garrard and Boucheron. And nobody could ever accuse the French of not being serious – least of all about their luxe.  Philippe Mihailovich – a South African brand strategist and university professor who grew up with a chic Parisian perfumer mother whose mother was a "Fath" as in famous designer Jacques Fath – moved here five years ago to investigate luxury brand culture says "With French luxury, it's the story, the true authentic story.  Without that, without the heart, your brand is nothing."
For many luxury brands the French touch is where the value lies—that combination of heartfelt whimsy, that elusive nuance that can't be described, but no doubt exists, in an elegant product that is built to last. That never loses its meaning. For the French, quality comes before any apparent branding. In fact, the love of money is an object of scorn in France.  Branding grows out of reputation and is maintained by quality standards. Philippe Starck says, "We (the French) are the world guardians of abstractions.  The creators have to keep an extreme rigueur to deserve the glance of their peers. Thus, France is the country of quality."
As for technology, indeed a major part of new luxury, branders might pull from other cultures and disciplines but without the 'je ne sais quoi' touch, no amount of technology or service or bling will matter in the game of luxury. For that we say, Vive la France.
An emerging irony is that the French themselves are being priced out of the luxury brand demographic. The owner of a well-known luxury multi brand store near Concorde, explains "We can not afford these things in our economy. We sell to the Chinese, the Russians, the Americans, the rest of the world." "Real craftsmanship is breathtaking, so you will always find people who really 'get it'" says Gallé.  Surely France will ultimately sustain their luxury heritage for the people within its borders as well as without – it's sewn and knotted into its history
How can we be more like the French?
Think of the long haul.  Build a brand with meaning, one that is rooted in a true story, not a story you manufacture and place adhoc on a brand.
Say no to the 'bling' factor.  Don't go for the cheap shot, the flashy bells and whistles that makes your brand hot one day and not the next.  Give your luxury brand time to ferment.
Remember luxury, in the true sense, has zero to do with function and utility.  It's about pleasure, beauty, and indulging yourself in a unique quality experience. Don't lose that.  X says "the iconicity of the object becomes its raison d'être which is why jewelry, which has zero functionality, is the most prized luxury of all."
"Chauncey writes about the current state of luxury from the French perspective. This week's feature story on BrandChannel.com"
0 Comments
---
previously titled "Mind Tag – You're It". My mind goes through so much subject matter with all that's going on. My more precise thinking disappears before I can get my fingers to march.
Flit flit go the pages..
Flit flit the remarkable sentiment Obama unearthed deep in America's heartland on Super Tuesday, flit flit Recession panic circling
the globe showing how much the rest of the world looks to us to know their own fate, flit flit the conversation I had with an Indian bricolage store owner on Faubourg du Temple where he told me that the caste system in India has disappeared (his words) and how the country is becoming predominantly Muslim because in the Muslim religion there IS no caste system (his words); he thinks there will be a Christian Muslim World War Flit flit how a new bar for innovation in the online and offline world has us soaring to ever more hypoxic heights, flit flit my newly pricked ears homing in on companies like Ideo, flit flit taking online social networking innovations offline, flit flit amorphic online offline design and social space experience, flit flit living in paris, flit flit not living in paris, flit flit the view of New York from Paris, flit flit Should I consider Shangai? Hong Kong? How could I even get there? Could I find a way to live in the east for six months? flit flit the universal love quagmire and the single woman, and on and on.
While writing this an ex-boyfriend started up a video chat so again, my attention is divided. The distractions of multiple tabs and multiple agendas. I am writing and submitting. I am looking for a job. This is the first time that I am REALLY looking for a job because I want one and not just for the money. Actually honest to goodness desirous of a company I can believe in and call home. And it can be in Shanghai or Tokyo or Portland. I am open. I have a fantasy of looking out from plate glass windows onto some wilderness in some sort of city on the ocean/forest/cliff side/mountain range so that I can feel elements other than taxi horns, pedestrian body smacking, and foie gras stinky cheese sewage concoctions – but I love cities so I can accept the aforementioned. I just want my future to be 'tagged' innovation, design, experiential, experimental, revolutionary, ethnographic, social network, social space, team, creativity, and best of all user generated.
A CHORUS OF MANY VOICES FROM LIVES LIKE YOUR OWN BUT NOT
I currently live in Paris in case that wasn't clear. I'm dedicated to my search to get a small chorus of multinational voices going as I continue to talent scout in the city of the 'createur' (createuse). I am looking for photographers, artisans, artists, visionaries, and designers for my next shopping party hosted in my home. I have found a great Vietnamese sister duo who have a store not far from my apartment. They are going to find a gang of like-minded souls that I can sift through as well. At least in theory they are.
I'm very happy to have Aja contributing to this site and I have a few interesting thought leaders lined up. Aja's next post is already waiting in the wings as her mind is as fast as a Virgin Galactic plane. Daonne Huff has also written. She writes about sexuality in New York from a different point of view – not the jaded been there done that trickster viewpoint. It's not ready to post though.
ON CROSS CULTURAL RESUMES
And outside New York, where I'm aiming to pick up more traction, I've met a woman at an international women in business event at the Deloitte & Touche building here in Paris who I think would be of great interest to you. She's from Alicante, Spain. She just got her MBA (with a semester in India), she's lived in Madrid and speaks Italian, Spanish, French and Russian. She raised her hand with great enthusiasm to say she was looking for a job in India and wanted to write a c.v./resume that would be of interest to Indian companies but make sure to separate it from her European C.V. (resume) in her online profile. What reads well in France wouldn't work in India – or New York for that matter. In France, including a picture on your c.v. has been customary for years (one woman claims that's a thing of the past but I was told to do so) and they always seem to ask your marital status and what your parents do -even when you're in your 30s – and its not against the law. There is not one universal way to present yourself that is palatable or relatable to employers internationally.
FEAR OF FLYING IS NOT JUST A BOOK BY ERICA JONG
We know India and China have huge growth opportunities but I was really struck by the enthusiasm she had for every day life in Southern India. The danger right now is that these countries are drawing their own talent back home from the United States where they came to be FREE and CREATE and PROSPER because of our as-of-late impossible immigration policies and fear based government. But the even bigger danger is that us as Americans are still the most hesitant in the world to embrace cultures different from our own. 'Assimilate to our ways gosh dang it', would say our president. We are not natural emigrants – anymore. We cling to our comfort zone more than most anyone. Australians, as we've all seen, seem to get up and go and keep going once they do (I know, they live in the middle of nowhere). And though the French are afraid to put their toe in the water, the people I meet in Europe are infinitely better traveled than anyone (including me) that I've known in America. They are happy to trot around the globe as much as possible for work and adventure. We're the ones that think Turks and Caicos is far enough for most vacations. It's no surprise – with just 'two weeks' and 15 hour work days, there are a lot of reasons why this happens.
NOT GETTING INTO OBAMA HILARY
Lets see how the earth (r)evolves in 2009. I won't get into Obama and Hilary as I really have to walk my dog but I will say I do hope to hear from my new Spanish friend and that she will tell you more about why she is so antsy to get back to life in Southern India.
-Chauncey
2 Comments
---
---