From her artist statement: "Using the labor intensive technique of double-cloth weaving.. (Stacie) commemorates (her) disappearing ('hastily typed') thoughts and feelings" of the digital age.
Warning: The words in these pieces pack a wallop. Her pain is palpable but so is her discipline, artistry, skill, and most of all, courage.
This is an exhibit I attended back in January but it sat in my iphoto until I finally dredged it out to post this.
"Going to therapy in New York is about as expensive as dinner at Cipriani. I think I'll start wearing a cocktail dress to my sessions."
"Time went on I started noticing the weight loss then I had to ask him was he riding th white horse at first he said no then he said yes."
0 Comments
---
"try it" 
Good Girls Go to Paris Crepes owner Torya Blanchard says "it just gets better and better for those who believe in Detroit"
Signal-Return Letterpress director, Megan O'Connell. The shop  "seeks to connect the community to traditional + emergent forms of printing". It's a gallery. It's a resource for design entrepreneurs. It's a meeting space with all the signature displays of process and craft that we love so much.
Photo Credit: 
Studio Couture Detroit
Jessica Hicks (also a designer mentioned on Design Sponge) and her husband opened Astro Coffee in Detroit after living as expats for several years.
What her husband says about their choice to move to Detroit to do this:
"You can do something here that means something. Open a coffee shop in another city and you'd drown. Here there is cooperation."
26-year-old Hostel Detroit owner, Emily Doerr cutting the ribbon in 2010 on her non-profit accomodations aimed at educating visitors about Detroit.
The Empowerment Plan: Veronika Scott invented a Sleeping Bag Coat to do something about the gargantuan homeless problem in Detroit  (1 in 47 are homeless). It is "self-heated, waterproof, and transforms into a sleeping bag at night." She employs homeless women to manufacture the coat.
Photo Credit:
Khaaliq Thomas
The video by 4exit4 inspired this post. See them all here!
Links:
Good Girls Go to Paris Crepes!
Hostel Detroit
The Empowerment Plan
Signal-Return Letterpress
Astro Coffee
 *lead image credit:
Michael Goettner
0 Comments
---
---
For all price ranges and passions (the full post on Tythe.com)
1. COOKING
Epicurean Designer Cutting Boards Though this Duluth, Minnesota run company …
2. HELPING
Nomi Bags Nomi network produces recycled bags that fight human trafficking.
3. INDEPENDENT DESIGNERS
I've always loved the spunk of Junk Prints owner / designer Chanel Kennebrew.
4. GLOBAL DESIGN CULTURE
Yoshii Shirt Stripe Towels – Towels have a strong significance in Japan.
5. CRAFTSMANSHIP
Stacking Vessels by Pia Wustenberg – As I see it, design is art and worth the price to celebrate the human ability to transform materials for use in our everyday lives.
-Chauncey Zalkin
0 Comments
---
When Show Love spent a few days last week at Stone Barns Center for Food & Agriculture (home of Blue Hill restaurant deliciousness) as the official videographers of the Young Farmer's Conference, we spoke to 3 Native Americans who had come from 3 tribes, all working with the Food Corps an initiative to teach kids about healthy food. They came from three tribes: the White Mountain Apache, the Santa Domingo Pueblo, and the Hopi, all in the Southwest. I spoke to them at length and was incredibly moved by their work to instill Native American values in the youths of their tribes and teach sustainable farming – working with and not against nature as they've done for thousands of years (and which it seems, we're just learning). The time feels really ripe to bring the U.S. back full circle to its original values that we so desperately need today. I went back to Women Make Movies site and found this series on promotion through the end of December:
"Native: Through the Eyes of Indigenous Women" includes
'TOXIC TRESPASS, which covers environmental racism impacting native communities,  CLUB NATIVE and MOHAWK GIRLS, two coming of age identity films by the acclaimed Mohawk director, Tracey Deer;  the urgent and heartbreaking FINDING DAWN on the human rights crisis of aboriginal femicide; the spirited Southwestern artists' film THE DESERT IS NO LADY, and a provocative cultural look called NAVAJO TALKING PICTURE.'
Check it out here
and read about the White Mountain Apache, the Santa Domingo Pueblo, and the Hopi tribe.
*Image from the film Finding Dawn.
Here are some more pictures from our time at the Young Farmers Conference. To learn more about Show Love, social content for lovable companies, read our press release here.
0 Comments
---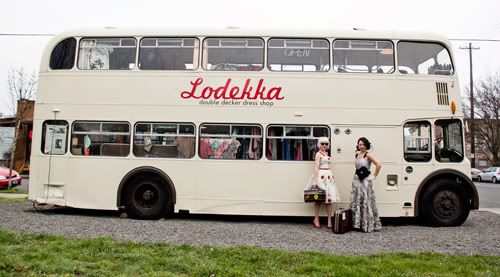 via decor8blog.com ' Woman in Portland loses job, converts double decker bus into fabu vintage shop.'
via mediabistro – the description of Tracy Reese's coming Fashion Week Presentation. Something about a scarf-cape and rich metallic hues. I just came from Zara where cheap flimsy crapola abounds but I did like the copper bronzey dusty leather sateen madmax meets elegance that they're copying from some zeitgeist somewhere else. This sounds like the kind of thing I imagined it could all be pointing toward. Like you're wearing a brass sculpture turned to liquid.
Women in Egypt — From a video of the 'Bravest Girl in Egypt' leading a kick-ass call and response chant showing she's not afraid, to a call to arms from a 26 year old daring men to join them in the streets, this is a great round-up of the impact women are having there. What's really been driven home for me is how condescending western women (and men) are about women in predominantly Muslim countries. We think because a woman on the other side of the world wears a head scarf or burka that they are not strong, that we are stronger. What a mistake. We can not impose our interpretation of them on them. We don't have the vantage point. You know what else we don't have? Humility. It's not in our culture to be humble. Especially Americans. Looking at these women really solidifies the point. These women putting honor first are a force to be reckoned with. There are countless examples in the Middle East and all over the Muslim world of this kind of soul-strong intelligence and raw guts.
Sundance is over and I was scouting around for news about how the women-folk fared. Pretty good it turns out but of course it's still a struggle. Cathy Schulman, the new president of Women In Film (and producer of one of my favorite films, Crash) was quoted in The New York Times as saying that women have to think about both 'show' and 'business' – not just make intelligent risk-taking smart films but also make movies that are commercially viable, more of a sure thing at the box office.
Schulman's making a good point in a lot of obvious ways – but it also reminds me of women of the eighties in their 'power suits'. Maybe we can change what is commercially viable by our contribution, not just mold ourselves to fit what's selling. it's a positive side effect of our harder battle that for the most part, women and minorities can't just coast their way to the top without bothering to notice that what we're making is vacuous. We are conscious of our struggle upward which is our blessing as it is our curse. Because we have to work that much harder, we put that much more of ourselves into our projects and the creative choices we make. We want to do our best work, make the most of our shot out there because it is harder to come by. Instead of resorting to formula, I do believe we can make audiences stretch and come to good work.
Women and men who make work that is innovative, contributive, new, valuable can instead hire better marketers to draw the public in and make them feel welcome in new territory. The marketing methodology has to be more adroitly executed and commensurate with the work. I wrote a novel and I'm struggling like hell to write a simple synopsis. My book, I am certain, has the makings of a commercial success but it is also literary fiction and it is non formulaic and more discursive than a straight narrative story. There is nothing tried and true – so the trick is in making the marketing hook simple and enticing enough to get readers in the door – and then before they know it, they are being challenged and enlightened and treated to something they've never seen or heard before without ever knowing what hit them. The marketing has to be as scintillating as the piece without over-burdening the recipient with every nook and cranny before they've committed. At the same time, we need a voice like Schulman's to tell us to think from a wider angle lens; perhaps consider doing the commercial with flair and the nuanced with full-throttle personal conviction.
Have a great weekend.
Chauncey
3 Comments
---
*
It's been a busy month and I haven't been updating the site so here I've decided to wrap up the important news in creativity and leadership that may have been missed.
1) Fast Company named the 10 Most Creative Women in Business for 2010.  They include already very famous people like Stella McCartney and Nora Ephron and more obscure behind-the-scenes movers and shakers, the kind that are near and dear to WWM heart like game designer Jane McGonigal who said "My goal for the next 10 years is to make it as easy to save the world in real life as it is in online games." Now that piques my interest. I'll definitely buy her book when it comes out.  And with a name like Padmasree Warrior, how can you lose;  Cisco's Chief Technology Officer is leading the way to getting business on board with her right on target message that says "video content and cloud computing (is a platform for collaboration" that needs to be addressed. And now. Bonnie Hammer's SyFy channel is firmly planted in the future as well and she's been making all the right moves. Of course they're all worth mentioning. I'll add the very photogenic Neri Oxman "whose work attempts to establish new forms of experimental design and novel processes of material practice at the interface of design, computer science, material engineering and ecology." I wrote about her before at some point. She was on last year's list. She does seem a little bit unreal.  I wish I could see her exhibit in Boston before it disappears but I'm sure there will be more.
2) On the lighter side, from Australia I'm digging Anthea and Cass Somas' online shop Collection of Cool. Do you know any other great online shops? Do the little ones ever press on through to greatness and profitability? Would love to hear your suggestions on this front.

3)
Grain's purses inspired by Guatemalan women weavers. Their site explains: "Founded in 2007 at the Rhode Island School of Design, Grain is a collaborative of design thinkers with the shared vision of a more sustainable future." Just my kind of project. Lovely bags as well.
4) Kate Gilmore's "Walk the Walk" art installation in Bryant Park. What a fresh everyday urban detail to art upon.  I'm always perplexed by the lack of urban intelligence in certain cities. I've observed a lot of getting out of other people's way in London for example and in Paris, how rushing headlong into someone is completely normal, without a word of apology or even a look of defiance. Human barrier to my path? What human barrier? Boom.  In New York, you have to walk on the street with the cars down Canal street for example in order to get anywhere. And everywhere in the world, its the tourists that create frustration just standing in the middle of the sidewalk obliviously taking pictures and strolling in slow motion. This walking, stopping, dodging, pushing through, and holding back is part of the stress, pleasure and pulse of living in a city.  It's worth this kind of look and then some.
5) This exhibit – Art by the Yard: Women Design Mid-Century Britain at the Textile Museum. "Three women designers were pivotal in this artistic revolution: Lucienne Day (1917- 2010), Jacqueline Groag (1903-1985) and Marian Mahler (1911-1983)."
6) Women are Heroes, which I wrote about before What Women Make dot com started, debuted at Cannes last week. Juxtapoz reviews.
7) "Women without Men" by Shirin Neshat which explores gender in Islam opened in New York last week . I've also written about S.N. at some point on WWM. here is the review by the NYTimes.

And that it for now. Enjoy the week!
Chauncey
Image from article "Swedish/German designer Katrin Greiling plumbs Arab traditions in her furniture designs" via  Fast Company
0 Comments
---
Hello! Claudia Brown and I make up the Portland-based surface design studio Pattern People. We opened up shop fairly recently after many wonderful years working in-house for clients. We're paying a visit to What Women Make (formerly Girl on the street) to share a list of a few of our favorite influential women in the arts –– from painting, film, nature and textile design.
Here goes…
The artist, Vanessa Bell, is considered to be one of the major contributo
rs to British portrait drawing and landscape art in the 2Oth Century. She was a member of the Bloomsbury Group, along with her sister, Virginia Woolf, and also a part of the Omega Workshops established by Roger Fry in 1913. The Omega Workshops produced painted accessories for the home, such as lamps and furniture, in addition to decorating walls and textiles. Her home, the Charleston Farmhouse in Sussex, is an inspirational example of her work and the other members of the workshop. A short trip from London, the Farmhouse is worth a visit to experience the art in its original environment.
If you haven't seen the work of Lotte Reiniger, add it to your list immediately. Originally from Germany, Lotte is a silhouette animator who gained recognition in the 1920s for her expressive and imaginative moving cutouts set against color backdrops. Her film, The Adventures of Prince Achmed, is claimed to be the oldest surviving animation of all times. Her delicate craft has inspired many and appears to have influenced the work of modern day artist, Kara Walker.
Nature is a constant source of inspiration. One of our favorite gardens is Lotusland in Montecito, California, which includes a variety of exceptional plants. Opera singer, Madame Ganna
Walska, who owned the property from 1941 until her death in 1984, created the 37-acre botanic garden. Madame Walska had a colorful history that included marrying six times. She bought the estate while married to her last husband. After divorcing him, she christened her estate, Lotusland, named after the lotus growing in one of the ponds on the property. She spent the next 40 years transforming her grounds into a fantasy world of botanical wonders.
A British fashion superstar, Zandra Rhodes, has been creating amazing hand drawn textile patterns since she graduated from the Royal College of Art back in the 60s. Each season she selects an interesting theme as her inspiration. A few collections have been based on her travels to the Grand Canyon, Mexico, Japan and Australia – each incorporating elements specific to the region. Still a practicing designer, Zandra has recently launched a handbags line in addition to her eponymous clothing label.
Demonstrating ingenuity and strength in their fields, each of these women continues to inspire – a true testament to their originality and creative genius.
Thanks Chauncey for letting us guest blog! To read more about influential designers, visit here.
-Jessie Whipple Vickery
1 Comment
---
---