From her artist statement: "Using the labor intensive technique of double-cloth weaving.. (Stacie) commemorates (her) disappearing ('hastily typed') thoughts and feelings" of the digital age.
Warning: The words in these pieces pack a wallop. Her pain is palpable but so is her discipline, artistry, skill, and most of all, courage.
This is an exhibit I attended back in January but it sat in my iphoto until I finally dredged it out to post this.
"Going to therapy in New York is about as expensive as dinner at Cipriani. I think I'll start wearing a cocktail dress to my sessions."
"Time went on I started noticing the weight loss then I had to ask him was he riding th white horse at first he said no then he said yes."
0 Comments
---
What do these incredible critically acclaimed major visual artists or our time have in common? It's (in order of appearance followed by image of their work) Phyllida Barlow, Nathalie Djurberg, Tacita Dean, Klara Lidén, and they make up the spring line-up at New York's New Museum, an all-female line-up. Most importantly, it has not been overtly publicized as such.

- Tipped off by Art Info and my friend Amy Mendizabal.
Links – New Museum Upcoming Exhibits (New York)
0 Comments
---
The new Donna Wilson "Bertha" chair which debuted at Maison Objet last week from SCP. You can see a lot of Donna Wilson's work at Future Perfect in the Noho store (NYC).
The maker of the drink-klip, a metal clip that attaches to a surface to hold a drink which I first discovered when I met her at LDF 09, debuted a new series of wallpaper, a commanding (if not entirely comfortable looking ) chair and tableware made from Hanji (traditional Korean handmade paper) at Maison Objet this past week as well. Her name is Been Kim and she was selected as a Next Generation Design Leader of the year by the Korea Industrial Design Promotion in 2006 and in 2009. The collection is called Meeet.
And according to Maison Objet, one of the biggest best design shows on the calendar, and definitively Parisian for better or worse, this is the season of the Sweet Freak. Out with the serious and stressed vibe of the past, in with the nutso crazy. (When did the nutso crazy ever leave France?)
In other news, Moss, that old institution of design retail in New York, is closing. It may be the end of an era in design in New York but hopefully it's a chance to usher in something new – a city where design environments with a sense of whimsy and warmth can thrive. Moss was a bit too musn't-touch-it for the immersive hybrid retail of the future.
& let me leave you with Clouds rug by Elise Fouin of Chevelier Edition
Links:
Chevalier Edition (Paris)
Designers Block (London)
Future Perfect (New York)
SCP (London)
Beeen (Korea)
0 Comments
---
Chiara Parisi has been chosen to launch the first cultural program for the Monnaie de Paris with the objective of turning this gorgeous block long building along the Seine into a center "for dialogue between contemporary creation and the artistic professions." The program and new exhibition space will launch in 2013.
Its important that Paris' cultural institutions continue to grow and not shrink. Paris often feels stuck so this movement feels very encouraging.
There will also be a 3 star restaurant by Guy Savoy, a concept store, a garden, and the Métalcafé. Hopefully they'll do something Merci Merci and Collette are not doing. There's an opportunity now for a whole new approach to a concept store and maybe something that ties back to the concept of monnaie and revolutions afoot in the world of ideas about currency, maybe the fusion of cultural currency with new ideas for a monetary currency that gets us out of this mess. Let's see what they do..
0 Comments
---
---
Françoise Huguier will direct the 3rd annual Photoquai exhibition showcasing non-European photographers' work alone the Seine.
Sept 13, 2011 – November 11, 2011
Paris, France
"400 works by 46 contemporary photographers from 29 countries: South Africa, Congo, Ethiopia, Nigeria, Tanzania, Togo, Morocco, Tunisia, Bahrain, Iraq, Belarus, Russia, China, South Korea, India, Japan, Taiwan, Cuba, Cambodia, Laos, Malaysia, Indonesia, Singapore, Thailand, Australia, New Zealand, Chile, Colombia, Brazil" will line the Seine.
"Photoquai 2011 is a voyage through the clamour of the world, stimulated by photographers' perceptions of the state of their societies and of cultures other than their own. For us, they act as watchmen, guards, preventing us from falling asleep."
Francoise is a world traveler, photographer, filmmaker and curator with great passion for Africa. Her work seems to spans genre, place, medium, all arresting images and themes offering rare access to cultural specificity around the world.
Though this exhibit is not about Huguier, the more you journey, the riches become apparent. Here are some of her photographs, the mind behind this year's Photoquai exhibit: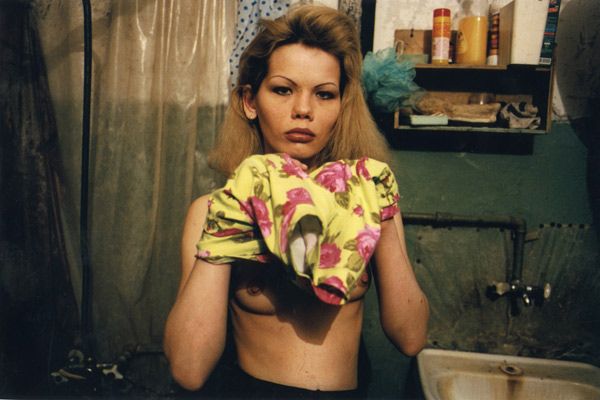 Above from her documentary Kommunalka about Russian communal living.
Les Trois Grâces – Women in Paris preparing for a show
Japanese Baths
From her collection, Singapore Don't Move about Singapore's middle class
and more here
0 Comments
---
Carole Collet created the textile futures course at the famed Central Saint Martins School. The course celebrated its 10th anniversary with two exhibits, one in London earlier this summer and another during Milan Design Week in April.
Highlights from the show as seen in this video include using air as a material, exploring the manipulation of DNA to produce products and how that will effect manufacturing in the future, digital skins (which needs more explanation) and a plea to come back to our physical senses, the importance of touch.
One student describes her work as a biological atelier – the mutual explorations of the scientist, the designer, and the craftsman a theme to which all projects seem tied. All of the work explores the tension between past and future, lo-tech and high-tech, explains Collet.
You will notice that the voices represent a breadth of nationalities. Beautiful provocative stuff.

video via Jotta
1 Comment
---
Prints! Motifs in Costume & Fashion History (1750-2000)
Design inspiration fanatics, color lovers, and pattern princesses (okay, that's a bad one), if you're anywhere near Belgium between now and January 8, 2012, power down your laptops and raise your eyes from your iphone as you head over to the Mode Museum Hasselt for some historical inspiration – prints and patterns of all kinds.
Why this is interesting / augments what you already know:
Illustrates different phases in the life of notable motifs
Looks at socio-economic changes
Looks at technological innovation
Examines relationship between fashion and applied arts, in particular interiors.
From European prints to Indian chintzes
Highlights historical printing methods such as block printing and cylinder printing
Designers shown include Hermès, Emilio Pucci, Versace, Marimekko, Leonard, Dries Van Noten, Jean-Paul Gaultier, Jean Charles de Castelbajac and more
From website: "Varieties of motifs often reflect the collective taste and Zeitgeist of a certain period. Printing textile is also a complex industrial process and as such depended on innovation, mechanization, research and technological progress."
You might also like our recent post highlighting favorite prints from Spoonflower, the online community for designers offering on-demand custom printed fabric. And check out guest bloggers, the duo known as "Pattern People" who discuss their historical inspirations as well as Argentinian graphic designer Laura Varsky's prints and patterns. Also some picks from Katja Behre of Elli Popp wallpaper and textiles discussed here.
Also look at our other Friday Diary late summer / last chance exhibits and events:
1> Tracey Emin, London
2> The Int'l Gift Fair, New York
3> Contemplating Spaces of the Future, Denmark
Lead Image: Mastori*Motwary Studio. Images 2/3 courtesy of Mode Museum Hasselt (in order): Tim van Steenbergen AW 2011-2012, catwalk models from Lanvin SS11.
0 Comments
---
---