The new Donna Wilson "Bertha" chair which debuted at Maison Objet last week from SCP. You can see a lot of Donna Wilson's work at Future Perfect in the Noho store (NYC).
The maker of the drink-klip, a metal clip that attaches to a surface to hold a drink which I first discovered when I met her at LDF 09, debuted a new series of wallpaper, a commanding (if not entirely comfortable looking ) chair and tableware made from Hanji (traditional Korean handmade paper) at Maison Objet this past week as well. Her name is Been Kim and she was selected as a Next Generation Design Leader of the year by the Korea Industrial Design Promotion in 2006 and in 2009. The collection is called Meeet.
And according to Maison Objet, one of the biggest best design shows on the calendar, and definitively Parisian for better or worse, this is the season of the Sweet Freak. Out with the serious and stressed vibe of the past, in with the nutso crazy. (When did the nutso crazy ever leave France?)
In other news, Moss, that old institution of design retail in New York, is closing. It may be the end of an era in design in New York but hopefully it's a chance to usher in something new – a city where design environments with a sense of whimsy and warmth can thrive. Moss was a bit too musn't-touch-it for the immersive hybrid retail of the future.
& let me leave you with Clouds rug by Elise Fouin of Chevelier Edition
Links:
Chevalier Edition (Paris)
Designers Block (London)
Future Perfect (New York)
SCP (London)
Beeen (Korea)
0 Comments
---
This Saturday, Dec 3 come to the SheMakes Holiday Festival
NYC
Support female entrepreneurs and eat delicious food while checking off your Christmas shopping list. There will be over 30 vendors there, all smart women like you.
I'll be there doing a limited run of personalized hoodie sweatshirts for dogs, a business I had back in 2002, all manufactured right here in the garment district with my dog as my fit model. They ended up on J-lo and P Diddy's Chihuahua and Sharpei respectively – and they raised money for the rescue dogs of 9/11 at several charity events. Was a good time. I have a big batch of red hoodies that I've been carting all over Europe and back and I'll be personalizing them with your dogs name and selling them at the event. I'm very excited to revisit this fun project but the hoodies will not last. They are already selling out.
Hope to see you there:
December 3rd, from 12pm – 5pm
Saatchi & Saatchi
375 Hudson Street at Houston
(street level entrance on King St)
You can find more details here and add it to your calendars here
What Women Make supports hosts the Daily Muse, a group of young smart female entrepreneurs who've launched an online magazine to offer an alternative to the fluffy stuff already out there, one that speaks to the needs of young professional women. Their combined histories are impressive – from top schools to time spent doing relief work in Rwanda, directing a series of international affairs university publications, and working at top management consulting firms. Oh, and they're also really nice people!
Follow them to stay updated on career tips, advice, and articles: @dailym_use
Also brought to you by 85 Broads and Saatchi & Saatchi
0 Comments
---
This was my first time at Creative Mornings, the monthly talks started by Swiss Miss design blogger Tina Roth Eisenberg. I've been following Swiss Miss for a few years now and her blog always has useful tips for design lovers who love technology like you and me. The talk was by graphic designer and "lucky-so-and-so" blogger Jessi Arrington.
I felt like a "lucky-so-and-so" myself because the talk was all about bright color. The talk itself was short and sweet but the rainbow parade around DUMBO that ensued was the best Friday eye-opener you could imagine. When I got home, my husband asked me if I was drunk. THAT'S how energizing it was.
Takeaways from the talk were as follows:
Think "Why Not?" instead of "Why?
This helped confirm my decision to take that color theory class at SVA that I've been wanting to take (coincidence) even though I think I should be taking more businessy classes; I REALLY WANT TO TAKE THIS CLASS so f*** it, I'm gonna. She referenced Steve Jobs homecoming speech and his calligraphy classes as a 'you never know where this can lead' example.
Don't be glib and standoffish, be empathetic and participate.
She said this in her own way but the basic message is 'get the chip of your shoulder and connect with people.' Participate for crissakes. Don't put baby (meaning you) in the corner.
and last,
Do the thing that makes you tick. Don't do what you think others expect of you as a substitute for the real thing. It's okay to be yourself. Really. It is.
Cindy Gallop said something along these lines at Web 2.0 in September and my old myspace page has a list of convictions that expand on the theme. Back story:  I was in a hotel room int he 9th arrondisement in Paris in  October 2006 when it hit me that I just had to listen to myself (I can't believe I'm linking to this but here goes). I decided then and there that I needed to hightail it out of New York and move to Paris to write a novel, which is exactly what I did 3 months later. (Now, 5 years later, I'm married with a finished novel that I love more than anything I've ever done – and back in NYC ready to push it into an agents arms!)
Here are some photos of this morning and then, since we're always work-first at What Women Make, my favorite pick from Jessi's graphic design work.
First, the parade:
Then my favorite graphic design work of Jessi's I would have to say are her invitations:
Some of the really handy Swiss Miss stuff is here (but it's all great).
Jessi Arrington's blog: Lucky-so-and-so.
If you're a creative in New York, check out the schedule for Creative Mornings.
0 Comments
---
Hard to believe this is her 1st exhibition in New York since 2003 but go see it this weekend before it goes (last day is tomorrow!):
"Young British Artist (YBA)" Jenny Saville
Continuum
Gagosian
980 Madison Ave # 6
New York
Hours: Tue-Sat 10–6
This is before her first solo museum show at this strange venue (strange to me as a venue for her first US solo show):
Norton Museum of Art
West Palm Beach, Florida
as part of a Recognition of Art by Women series.
(image via @ artobserved.com)
(read more here on the Gagosian site)
0 Comments
---
…as well as Donna Karan, trailblazing fashion designer, and Sarah Brown, the wife of former Prime Minister Gordon Brown and a prominent female business owner in the UK. (the PR firm Hobsbawm Macaulay Communications, known for integrity PR).
September 18 – 19, 2011
Location Unknown for Day 1, Day 2 at 82Mercer
New York, NY

It starts with Enterprise Day (Sept 18) on the topics of Fundraising, Film, Fashion, & Social Media and then Inspiration Day (Sept 19) with panel across a broad spectrum of timely topics including the "green revolution". What an exciting event for women to hear from those that came before them – and from such an eclectic lineup of leaders. I hope this draws an eclectic, diverse group of women beyond media as well. I'm so happy this is happening in New York. WIE was started by June Sarpong (UK presenter) and Dee Poku (branding and comm with strong film background, member of the British Academy) last year. Scroll to bottom for discount.
Here's video coverage of last year's event with a truly illustrious (star-studded to be frank) line-up indeed:

WIE Symposium from WIE on Vimeo.
Go to the WIE website for more and then go to women2.0 to receive a discount code.
0 Comments
---
Françoise Huguier will direct the 3rd annual Photoquai exhibition showcasing non-European photographers' work alone the Seine.
Sept 13, 2011 – November 11, 2011
Paris, France
"400 works by 46 contemporary photographers from 29 countries: South Africa, Congo, Ethiopia, Nigeria, Tanzania, Togo, Morocco, Tunisia, Bahrain, Iraq, Belarus, Russia, China, South Korea, India, Japan, Taiwan, Cuba, Cambodia, Laos, Malaysia, Indonesia, Singapore, Thailand, Australia, New Zealand, Chile, Colombia, Brazil" will line the Seine.
"Photoquai 2011 is a voyage through the clamour of the world, stimulated by photographers' perceptions of the state of their societies and of cultures other than their own. For us, they act as watchmen, guards, preventing us from falling asleep."
Francoise is a world traveler, photographer, filmmaker and curator with great passion for Africa. Her work seems to spans genre, place, medium, all arresting images and themes offering rare access to cultural specificity around the world.
Though this exhibit is not about Huguier, the more you journey, the riches become apparent. Here are some of her photographs, the mind behind this year's Photoquai exhibit: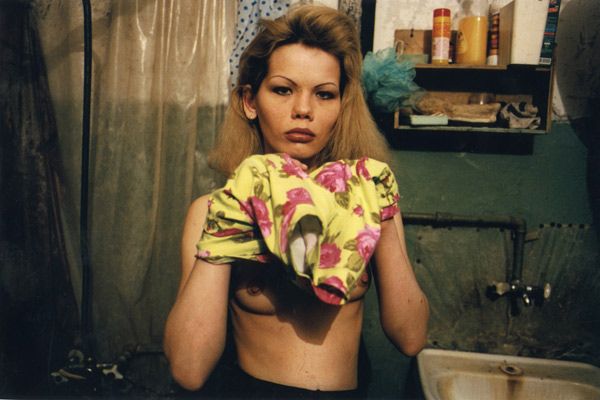 Above from her documentary Kommunalka about Russian communal living.
Les Trois Grâces – Women in Paris preparing for a show
Japanese Baths
From her collection, Singapore Don't Move about Singapore's middle class
and more here
0 Comments
---
- August 24, 2011
"Good Design Is Long Lasting" Exhibition
Phaidon Flagship NY
Core77 and Phaidon held a contest to celebrate iconic German industrial designer Dieter Rams work and his 'less is more' design principles. Rams was the head of product design at Braun from 1961 to 1995 and has been described as the yoda of design. His designs are commonly considered to have influenced the designs of Apple, Nokia, Muji and more – that clean rounded nonfussy most modern of aesthetics). The drawings are on display in a product timeline at the flagship store for the next two weeks.
Here is a reposting of Ram's principles (color) with some of my own thoughts (grey/black) ; Their essence resonates far beyond the confines of design.
1. Good Design is innovative
It does not copy existing product forms, nor does it produce any kind of novelty for the sake of it. The essence of innovation must be clearly seen in all functions of a product. The possibilities in this respect are by no means exhausted. Technological development keeps offering new chances for innovative solutions.
I wrote an article a while back entitled "new lessons from ancient Japan". In it, i refer to the term "kaizen," continuous improvement (process focus) which Toyota embraces as a core value. Their motto: 'the right process, the right result.'
I want to look at the word innovation. I like to check in regularly with words that become buzzwords to make sure they still mean something to me. So why do we need continuous innovation? Did we always need it?
There is no more 'the way things have always been done'. Has iterative, motivated ($$, survival) change always existed at this urgent alarm-shrieking level? It seems like we can break history down into 3 phases where innovation changes from being a base 'Maslow' style need to a self-actualizing 'nice to have' Maslow style need. I'd say it goes something like this:
A. The dawn of man, -history, ancient Egypt, Rome, through to industrial revolution: continuous improvement, better tools, better solutions – all the time. Base impulse of humankind. Gets increasingly less urgent once we start lying around talking about philosophy through to committing mass genocide on several continents.
B. Next phase: 40′s on – years of trying to find solutions that last (excepting planned obsolescence of course) so we could rest and be happy fat cats. No need to innovate to survive.
C. Where we are now. Screw 'innovate and stop, innovate and stop'. Back to the most urgent of loop to loop innovation in every day life.
Is continuous innovation a fact of modern life as well as a fact of primitive life? Is life now mimicking primitive life?
Mandate: how can we continuously improve and reassess, stay objective, keep questioning meaning?
2. Good Design makes a product useful
A product is bought in order to be used. It must serve a defined purpose – in both primary and additional functions. The most important task of design is to optimise the utility of a product.
I used to tutor a 6th grade kid with anger issues and I always said 'use your resources'. I don't know where i got it form but it was the way to get him on track when he began to get frustrated with a lesson.
Then I realized that I don't always use my resources. I forget my resources and seek new ones to the detriment of what I've already gathered.
Sometimes things are just easy. Don't make them hard. What do you already have?
3. Good Design is aesthetic
The aesthetic quality of a product – and the fascination it inspires – is an integral part of the its utility. Without doubt, it is uncomfortable and tiring to have to put up with products that are confusing, that get on your nerves, that you are unable to relate to. However, it has always been a hard task to argue about aesthetic quality, for two reasons.
Firstly, it is difficult to talk about anything visual, since words have a different meaning for different people.
Some designers I speak to don't feel comfortable with words. My job is sense making in this arena. In others, my words are more essence than organization. Words are my output. On the other hand, i can barely draw a straight line.
Secondly, aesthetic quality deals with details, subtle shades, harmony and the equilibrium of a whole variety of visual elements. A good eye is required, schooled by years and years of experience, in order to be able to draw the right conclusion.
4. Good Design helps a product be understood
It clarifies the structure of the product. Better still, it can make the product talk. At best, it is self-explanatory and saves you the long, tedious perusal of the operating manual.
Every practical interaction should be so easy so we can leave the talking and words for literature, criticism, love, and debate.
5. Good Design is unobtrusive
Products that satisfy this criterion are tools. They are neither decorative objects nor works of art. Their design should therefore be both neutral and restrained leaving room for the user's self-ex ssion.
6. Good Design is honest
An honestly-designed product must not claim features it does not have – being more innovative, more efficient, of higher value. It must not influence or manipulate buyers and users.
7. Good Design is durable
It is nothing trendy that might be out-of-date tomorrow. This is one of the major differences between well-designed products and trivial objects for a waste-producing society. Waste must no longer be tolerated.
8. Good Design is thorough to the last detail
Thoroughness and accuracy of design are synonymous with the product and its functions, as seen through the eyes of the user
9. Good Design is concerned with environment
Design must contribute towards a stable environment and a sensible use of raw materials. This means considering not only actual pollution, but also the visual pollution and destruction of our environment.
10. Good Design is as little design as possible
Back to purity, back to simplicity.
What becomes of the baroque? (it certainly shows up in contemporary television but where else does the baroque make sense?)
That's all for now. (not the most graceful exit but it's time to rest and after all this is a blog.)
0 Comments
---
August 9, Brooklyn, NY
Enjoy cocktails and mingle with agents Elyse Cheney of Elyse Cheney Literary Associates, Emily Forland of The Wendy Weil Agency, Ellen Twaddell of Denise Shannon Literary Agency, Eleanor Jackson and Julia Kenney of Markson Thoma Literary Agency, and Laura Nolan of Paradigm, as well as editors, authors, and the staff of Poets & Writers Magazine.
Admission is free and includes a cash bar. RSVP and check out the full list of agents attending by visiting P&W's Facebook page.
8/9: 6:30 – 9:00 PM
Union Hall
702 Union Street (at 5th Avenue)
Park Slope, Brooklyn
Directions
R to Union Street
Q, 2, 3, 4, 5 to Atlantic Avenue
F to 4th Avenue
B71 to 702 Union Street
B63 at corner of 5th Avenue and Union Street
File this under: "wish I could be there"
Another publishing / writers post you may enjoy, Persephone Books and the Resurrection of Early 20th Century Female Writers in London.
0 Comments
---
---