Follow us on our fun ride through ICFF 2012 NYC on Twitter and Pinterest
(and maybe Facebook and Tumblr too).
RISD student I met having fun on one of the items exhibited at the fair.
-Chauncey Zalkin
0 Comments
---
I simply can't believe there is a designer named Emerald Faerie and that she makes such dainty beautiful things. It combines my love of emeralds, which is quite intense, with the woodland sprite elfin identity I've embraced since my teen years. (Are you an elf? If you are, you know what I mean. Some of us are just elfin? Prince, you out there?)
The "Trifid" (divided into three parts) lamp (above) and her "Cinderella's Revenge" chandelier (below)
Emerald Faerie will be at ICFF at the end of the week and you do want to make sure you get a chance to check out her booth: Stand 2417
Jacob Javitz
11th Ave at 38th St
Designer Fiona Gall works out of her studio in East London
Image credit: Julian Abrams
0 Comments
---
---
I'm starting off with something that was not at ICFF because it's the most eye catching thing I've seen today. Forgive me.
"Agata Olesksiak, also known as Olek, is a 33 year old artist who will be showing at the Smithsonian in 2012. Her art is very much integrated into her life. She crocheted her entire Park Slope studio apartment"
via lifeinsketch via New York Magazine
not sure who did this but it was a student from this project, inspired by the BP oil spill
via Designsponge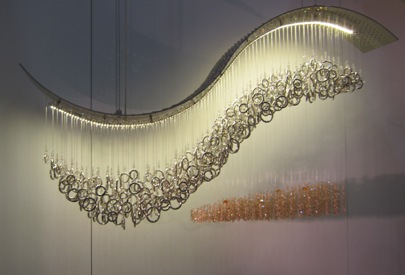 Lighting by Water Pressure. The designer is Evelyn Hutter who works with her production manager / partner Artur Malfitano
1st pic by Kimberley Taylor who alerted me to her fun ICFF pics via Twitter. Her other pictures of the show can be seen here.
2nd pic via Designgush via InteriorDesign
Then there's..
.. this (above) fanciful light by Ali Siavoshi that reminds me of the Starck for Baccarat I snapped in Milan last month and wrote about for BecauseLondon. Ali does a great job of repurposing to elegant affect. Check out her other work here. I'm not sure how I landed on her website to be honest.
ApartmentTherapy  took a picture of textile and wallpaper designer Katja Behre of Elli Popp ( below)
I found the Ballet Bower print to be my favorite (seen on her website). (below)
but I have to admit my very favorite thing on her site comes from an intriguing partnership with an indie musician, Edwyn Collins, who suffered a stroke and drew these marvelous birds and more with his left hand while in recovery which I urge you to visit here. Something just so poetic about the whole thing. Wish I could paste the whole page here but not sure how she coded it but it is unshareable but I found a great picture of his work here:
via WhatKatieDoes
Moving on..
Debra Folz photo albums that stand on end and become sculptural focal points in a room.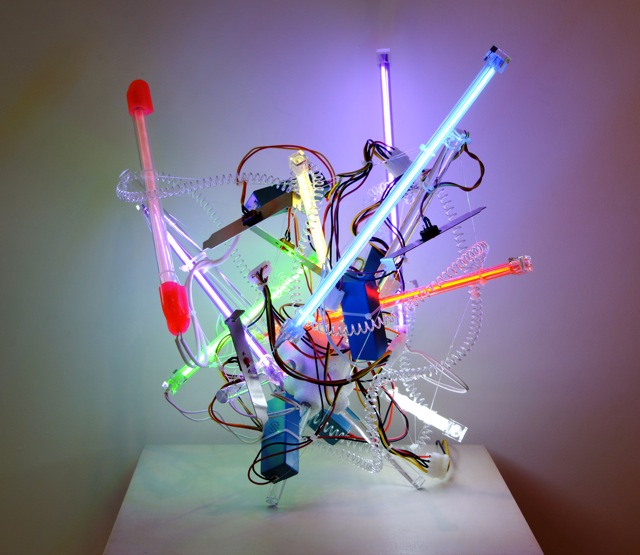 and here above is the requisite sticky pointy out light thingy every show is punctuated with.
Adela Andea, "Nanobot," 2011 via Marina Cashdan on Huffington Post
Then there's this article that criticizes the fair that never really attracted me for the same reason. Conservative brand-oriented American tastes. A good read and it follows a similar criticism by Design*Sponge's Grace Bonney
0 Comments
---
Women in Polish Design – Out of the ashes of a more austere and oppressive time comes a design landscape unfettered by a design past, one that is swiftly moving toward a vibrant future.
1 Comment
---
---