Carole Collet created the textile futures course at the famed Central Saint Martins School. The course celebrated its 10th anniversary with two exhibits, one in London earlier this summer and another during Milan Design Week in April.
Highlights from the show as seen in this video include using air as a material, exploring the manipulation of DNA to produce products and how that will effect manufacturing in the future, digital skins (which needs more explanation) and a plea to come back to our physical senses, the importance of touch.
One student describes her work as a biological atelier – the mutual explorations of the scientist, the designer, and the craftsman a theme to which all projects seem tied. All of the work explores the tension between past and future, lo-tech and high-tech, explains Collet.
You will notice that the voices represent a breadth of nationalities. Beautiful provocative stuff.

video via Jotta
1 Comment
---
GIRLS? GOOD AT SCIENCE??
ACTUALLY, THIS WEEK WE LEARN THEY'RE THE BEST
Headline this week: Who Runs the World? Three Girls Sweep Google's Science Fair. Americans Lauren Hodge, Naomi Shah, and Shree Bose beat out "over 7,500 entries from more than 10,000 young scientists in over 90 countries around the world. "Hodge won in the 13-14 age group by studying "the effect of different marinades on the level of potentially harmful carcinogens in grilled chicken." Shah won in the 15-16 age group by proving "that making changes to indoor environments that improve indoor air quality can reduce people's reliance on asthma medications," and Bose won in the 17-18 age group by discovering "a way to improve ovarian cancer treatment for patients when they have built up a resistance to certain chemotherapy drugs." Bose was also named the overall grand prize winner. -via a million sites.
See Grand Prize Winner Bose interviewed at Intel International Science and Engineering Fair 2011
0 Comments
---
*
It's been a busy month and I haven't been updating the site so here I've decided to wrap up the important news in creativity and leadership that may have been missed.
1) Fast Company named the 10 Most Creative Women in Business for 2010.  They include already very famous people like Stella McCartney and Nora Ephron and more obscure behind-the-scenes movers and shakers, the kind that are near and dear to WWM heart like game designer Jane McGonigal who said "My goal for the next 10 years is to make it as easy to save the world in real life as it is in online games." Now that piques my interest. I'll definitely buy her book when it comes out.  And with a name like Padmasree Warrior, how can you lose;  Cisco's Chief Technology Officer is leading the way to getting business on board with her right on target message that says "video content and cloud computing (is a platform for collaboration" that needs to be addressed. And now. Bonnie Hammer's SyFy channel is firmly planted in the future as well and she's been making all the right moves. Of course they're all worth mentioning. I'll add the very photogenic Neri Oxman "whose work attempts to establish new forms of experimental design and novel processes of material practice at the interface of design, computer science, material engineering and ecology." I wrote about her before at some point. She was on last year's list. She does seem a little bit unreal.  I wish I could see her exhibit in Boston before it disappears but I'm sure there will be more.
2) On the lighter side, from Australia I'm digging Anthea and Cass Somas' online shop Collection of Cool. Do you know any other great online shops? Do the little ones ever press on through to greatness and profitability? Would love to hear your suggestions on this front.

3)
Grain's purses inspired by Guatemalan women weavers. Their site explains: "Founded in 2007 at the Rhode Island School of Design, Grain is a collaborative of design thinkers with the shared vision of a more sustainable future." Just my kind of project. Lovely bags as well.
4) Kate Gilmore's "Walk the Walk" art installation in Bryant Park. What a fresh everyday urban detail to art upon.  I'm always perplexed by the lack of urban intelligence in certain cities. I've observed a lot of getting out of other people's way in London for example and in Paris, how rushing headlong into someone is completely normal, without a word of apology or even a look of defiance. Human barrier to my path? What human barrier? Boom.  In New York, you have to walk on the street with the cars down Canal street for example in order to get anywhere. And everywhere in the world, its the tourists that create frustration just standing in the middle of the sidewalk obliviously taking pictures and strolling in slow motion. This walking, stopping, dodging, pushing through, and holding back is part of the stress, pleasure and pulse of living in a city.  It's worth this kind of look and then some.
5) This exhibit – Art by the Yard: Women Design Mid-Century Britain at the Textile Museum. "Three women designers were pivotal in this artistic revolution: Lucienne Day (1917- 2010), Jacqueline Groag (1903-1985) and Marian Mahler (1911-1983)."
6) Women are Heroes, which I wrote about before What Women Make dot com started, debuted at Cannes last week. Juxtapoz reviews.
7) "Women without Men" by Shirin Neshat which explores gender in Islam opened in New York last week . I've also written about S.N. at some point on WWM. here is the review by the NYTimes.

And that it for now. Enjoy the week!
Chauncey
Image from article "Swedish/German designer Katrin Greiling plumbs Arab traditions in her furniture designs" via  Fast Company
0 Comments
---
*lead photo by Venia Bechrakis
With Greece making the headlines for its economic woes, I was inspired to go on the hunt for modern female talent from the birthplace of democracy and give it some positive attention.  Some of my picks have been around awhile, some are fresh on the scene. They come from sculpture, photography, fashion, jewelry, and of course there's that one certain Greek media mogul who's in a class of her own. Also check out TEDxAthens and the accomplishments of Katerina Aifantis who at 24 has already been called a rising star with the potential to be a world class scientist. Then on the lighter side is Greece is for Lovers worth checking out for their fun, cheeky design products.
Photographer, Venia Bechrakis, (from the lead photo of this post) is a native of Athens and received her MFA at NYU. "Whether in a grocery store, the airport, the subway or on a Manhattan street, the artist's portraits remind us of women's work and that ever-tenuous balance between one's private and public life." -Holly Block, Director Bronx Museum for the Arts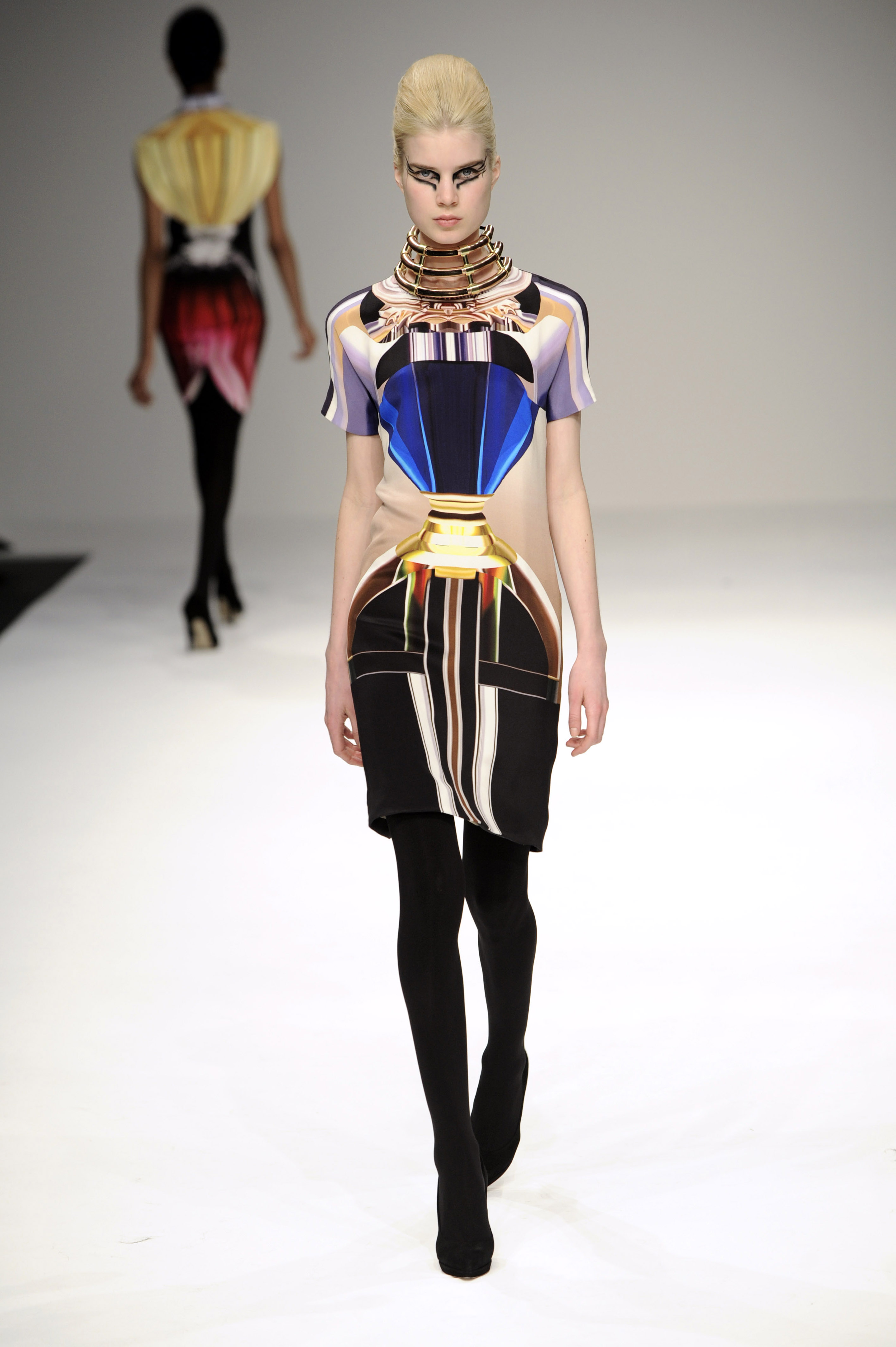 Mary Katrantzou , fashion designer from Athens "is among the second wave of breakout stars of the digital print revolution that has been sweeping London." – Style.com"
Alexandra Bletsas' prize-winning cityscape rings.
Aspa Gutmeni's post-it note interior design. She is the leader and sole female designer at a firm called 3ducci out of Athens.
And from an exhibit in Holland where eleven Greek jewelry designers showed their work there's Marina Zachou roses and thorns bracelet.
and Marina Gouromihou on the Greek jewelry design site MyPrecious.gr"
In a class of her own of course is Greek-American Arianna Huffington of the Huffington Post. Here she is at 24.
1 Comment
---
---
---